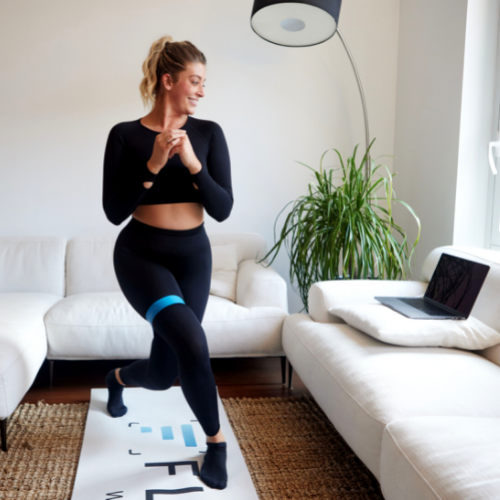 Advancement and innovation often strike in the face of adversity. The sentiment is true in both an individual, and a collective sense. The health and safety risk associated with the COVID-19 pandemic has fundamentally disrupted how people live in a variety of ways. At the heart of this is the world of fitness. The pandemic directly shifted the individualistic approach, and we are here to talk about the top five ways the pandemic has changed this fitness.
Reimagining Your Routine
The workforce largely shifting virtual was one of the first dominos that fell due to the pandemic. This forced businesses to learn how to operate remotely, but also provided individuals the opportunity to reimagine their daily routines. No longer were employees tied to an inbound-outbound commute, and eight-plus hours behind a desk, now employees could work when they are most productive.
Relating to fitness, those who implement health and wellness routines into their overarching daily routine also had to make shifts. Given the newfound flexibility though, there were fewer barriers to working out at a whim, and because of this, a study reported that exercise increased by 88% due to the pandemic.
Fitness and Wellness brands like FlexIt have taken advantage of these new opportunities, and provide fewer barriers to entry into virtual personal training, so fitness can be approachable Wherever, Whenever®.
Fitness and wellness routines becoming more intentional has also positively impacted the implementation of recovery methods. Consumers appreciate simple solutions to implement. Brands like Therabody have felt these benefits, stemming from their line of quick-use percussive therapy devices.
Working Out Smarter, Not Harder
With gym closures in the earlier stages of the pandemic, and many still wary about exposing themselves to larger crowds, creativity and refocused dedication to fitness has been necessary for individuals. Gym equipment is expensive, and not everyone has the space for creating their fitness centers, but luckily this is not a barrier that halts fitness!
At FlexIt, virtual personal trainers create personal fitness plans that take into account individual preferences, personal goals, and accessibility to equipment. Having no equipment doesn't mean working out isn't possible, it actually opens the door to many modalities like boxing, yoga, barre, calisthenics, and many more, all of which are available on the FlexIt platform. FlexIt Trainers will help you find the routine that fits your needs.
Similarly, the desire for proper fitness and wellness education has also increased. From a fundamental perspective, understanding your body composition will support goal setting. Recognized for manufacturing easy, quick, and precise body composition analyzers, InBody helps people redefine their health by providing accurate outputs like percent body fat, segmental muscle analysis, and total body water.
Accessibility & Community
Given the necessity of social distancing, the need for human interaction became apparent almost immediately. This is no different in the world of fitness. Personal training is often seen as a luxury, but with FlexIt, access to a community of elite diverse trainers is simple, with a decrease in barriers to entry.
A virtual community like FlexIt will provide individuals with accountability partners. Understanding that there is a person on the other end, helps improve the follow-through for working out.
Orangetheory is another example of an organization that made a concerted effort to establish accessible communities. With Orangetheory Live, users have the opportunity to live the Orangetheory experience, outside of an Orangetheory facility.
Finding Comfort Leads to Motivation
The pandemic brought focus on the importance of creating a beneficial environment for individual progress. In many ways, the increase in physical fitness is directly related to individuals being in a safe space, with no fear of judgment. Platforms like FlexIt offer the opportunity to work out Wherever, Whenever®.
Because of this platform, individuals can work out from the comfort of their own homes, take advantage of great weather, or even do so from the workplace, all without sacrificing impact. Virtual personal trainers are always accessible with FlexIt, and the flexibility to access them in a comforting space is motivating in its own right.
Check out NY Jets fan favorite, Braxton Berrios', experience using FlexIt.
Technology
Technological advancement and investment from the public continued to boom throughout the pandemic. What has long been a trend in the 21st century, companies aligning personal interests with tech-backed solutions gain a watchful eye from consumers. This is especially the case in industries like fitness and wellness. The individual desire to stay fit, and do so without sacrificing experience, was felt heavily while the majority of individuals were confined to their homes.
FlexIt's Virtual Personal Training is a great example of a company providing unique curated experiences for individuals in the fitness and wellness world. Their proprietary platform is designed and optimized for wellness experiences, featuring modalities including strength, HIIT, yoga, nutrition, physical therapy, barre, pilates, stretching, meditation, and more. These 1-on-1 private sessions with elite professionals provide an experience that offers motivation and accountability, helping users reach their health and wellness goals.To learn more about FlexIt's technology, and how you can enjoy their experiences, learn how to get started for free.