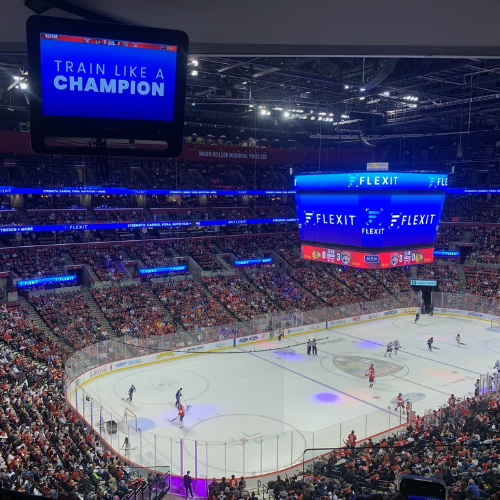 The Florida Panthers (46-15-6) continued their dominating run to defeat the Chicago Blackhawks (24-34-10) via a 4-0 shutout this past Thursday night, but remaining at the top of the Eastern Conference standings wasn't the most exciting part of the night. FlexIt, the Official Virtual Fitness Partner of the Florida Panthers, further realized its partnership with the NHL franchise.

Following FlexIt's second tarmac activation, onsite at FLA Live Arena, the leader in virtual personal training took over the arena with LED assets! The partners launched their first-ever FlexCam™ which brought much excitement to the home crowd in Sunrise, FL. 
The FlexCam™ was a hit, and the crowd eagerly joined in to recognize FlexIt. Check out the clip of the first-ever FlexCam™ below. Continue to check out other photos from the night to get a BTS to look at FlexIt's Official Partnership with the Florida Panthers!