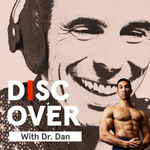 FlexIt Head of Training & Innovation, and Fitness Director of Men's Health, Ebenezer Samuel, C.S.C.S, joined "Discover with Dr. Dan" to tip-off March 2022. Ebenezer shared great insight into his journey, the evolving fitness world post-COVID, motivation in fitness, among other topics.
Eb also shared a glowing review of FlexIt! Check out the full interview HERE.

"Discover with Dan" timestamps:

3:03 – Eb's health journey
7:21 – Why do we have this fundamental need for muscle?
15:27 – Building muscle for longevity
24:07 – Finding your 'Why'
26:28 – Where to get started
31:18 – Covid and how things have changed with fitness and movement
34:23 – About Flexit and what they're doing with these challenges
46:16 – How much does training influence how we lift weights?