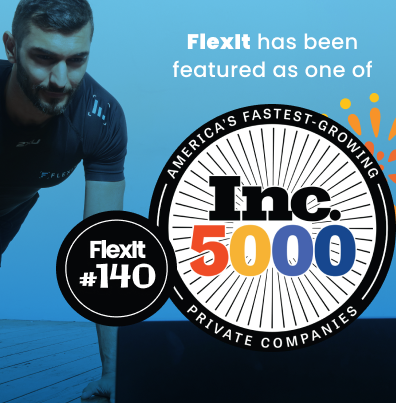 We are thrilled to announce that FlexIt has been honored with the prestigious Inc. 5000 award, securing an impressive position as #140 on this year's list of the fastest-growing privately-held companies in the United States!
But that's not all – we're not only making waves nationally, but also making our mark locally and within our industry. In New York, we proudly hold the #14 spot among the fastest-growing companies. And in the Health Services sector, we've secured a fantastic #15 position, highlighting our commitment to revolutionizing the Tech Health and Wellness landscape.
The Inc. 5000 is an annual ranking by Inc. magazine, recognizing companies that have demonstrated exceptional growth over three years, and we are proud to be part of this elite group.
This achievement showcases the dedication, hard work, and strategic vision of our incredible team at FlexIt. It's a testament to our commitment to delivering top-notch products and services to our valued clients in the Tech, Health and Wellness industry.
Being #140 on the Inc. 5000 list is not just a number; it's a testament to our passion and determination to excel. This recognition sets a high benchmark for success within our company and motivates us to continue pushing boundaries and reaching new heights.
We extend our heartfelt gratitude to each team member for their contributions to this remarkable accomplishment, as well as to our clients and partners for their ongoing support. Together, we look forward to even greater achievements and continued growth.
Thank you for being part of FlexIt's journey. Here's to celebrating this milestone and embracing the road ahead!