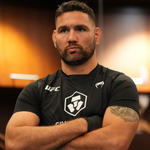 Chris "The All American" Weidman is a mixed martial artist most recognized for ending Anderson Silva's record-long title reign in the UFC. His meteoric rise to the pinnacle of the UFC included a victory over Demian Maia, which he took on ten days' notice, and required him to cut 32 pounds to make the 185-pound weight limit!
The All-American will never have his toughness questioned. Weidman is preparing for his comeback following a horrific injury, stemming from his rematch with Uriah Hall, which resulted in a broken leg. Weidman revealed on The Fighter vs. The Writer, "This is a very serious injury. I've been through lots of injuries before, obviously, you know I've had 25 surgeries. This is very different. There are a lot of moving parts. So I have goals when I'd like to fight, but I'm not going to die over a month or two difference. I am coming back and I am coming back in 2022."
Despite the latest injury, Chris Weidman has still ranked the 15th best Middleweight in the UFC. He was also featured on ESPN's list of MMA's Middleweight 'Mount Rushmore'.
Three Rounds:
🥊 Chris Weidman's professional MMA record stands at 15 wins & 6 losses
🥊 Weidman ended Anderson Silva's record title reign of 2,457 days by way of second-round KO (punches) on July 6, 2013
🥊 Weidman successfully defended his title three times against legends Anderson Silva (rematch), Lyoto Machida, and Vitor Belfort