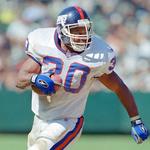 Charles Way was a Giant on and off the football field. After leading the way for New York running backs for five seasons, he was the Director of Player Personnel for fifteen years with the franchise, before joining the NFL league office as the VP of Player Engagement.
Charles spoke offered an exclusive interview with FlexIt prior to speaking with FlexIt Head of Training & Innovation, and Fitness Director of Men's Health, Ebenezer Samuel, C.S.C.S. The ambiance from the health facility at Casa Cipriani glowed in the background as Charles Way shared insight into his experience using FlexIt.
Check out the full interview below!
Looking to try out FlexIt? Get started today!

Still need time to think? Speak with a trainer for free.