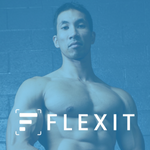 Ebenezer Samuel, C.S.C.S, FlexIt's Head of Training & Innovation and Fitness Director of Men's Health, joins The Next Rep™ to share some important health and wellness tips that can be completed Wherever, Whenever®. These simple-to-follow exercises are designed to be low lift opportunities to consistently improve one's health and well-being.
Tightness in the hips is a common problem for individuals, and with the World's Greatest Stretch, adding this to your routine will improve stability and lower body strength. Stability in the hips is instrumental for long-term health, as this is one of the most commonly injured regions. Take the steps to improve your hip strength today.
Check out Eb's latest Flex below!