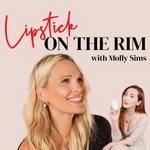 FlexIt received a glowing shutout on "Lipstick on the Rim" with Molly Sims!

Luxury skincare influencer Tina Craig spoke with Molly Sims on February 1, 2022. Tina highlighted FlexIt as a brand that helps her stay in shape. She recognized the simplicity of FlexIt's platform and its convenience.
Tina Craig enthusiastically shared her experience with FlexItPRO™ trainer Johanna Sapakie, who has worked with Jennifer Lopez, Miley Cyrus, among other celebrities.
Listen to her experience!
To listen to the full episode of "Lipstick on the Rim" featuring Tina Charles, tune in here.