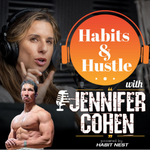 "Habits & Hustle" hosted by Jen Cohen and Habit Nest, featured FlexIt's Head of Training & Innovation Ebenezer Samuel, C.S.C.S, on January 25, 2022.
The veteran fitness trainer and social media fitness personality, highlighted the benefits of FlexIt providing motivating factors for working out, including working out with groups and the benefits of working with a trainer.
Check out the FlexIt shoutout!
To listen to the full interview with Ebenezer Samuel, catch the full episode here.