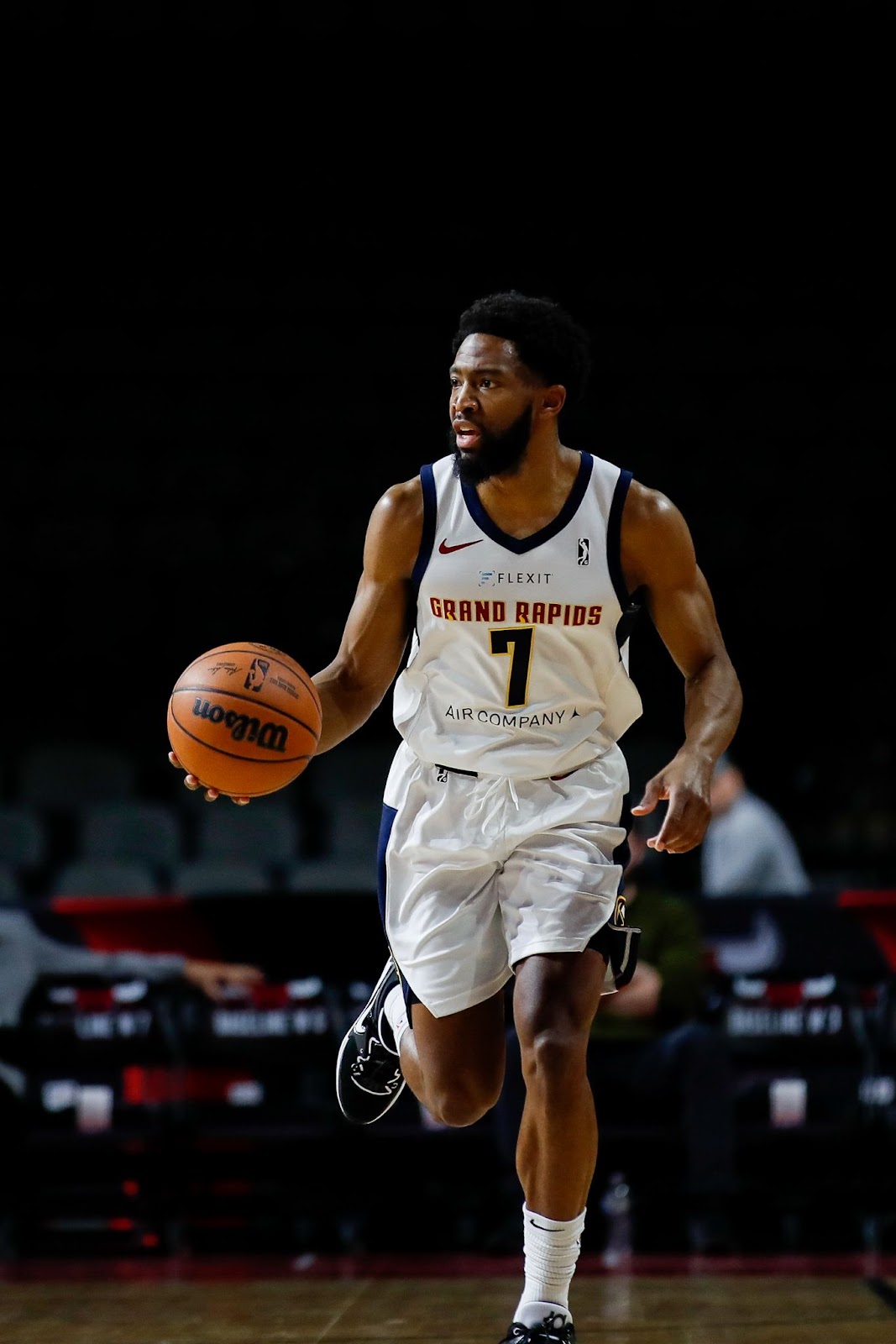 FlexIt, the leader in hyper-personalized health virtual solutions announce the expansion of its Official Fitness Partnership with the Grand Rapids Gold.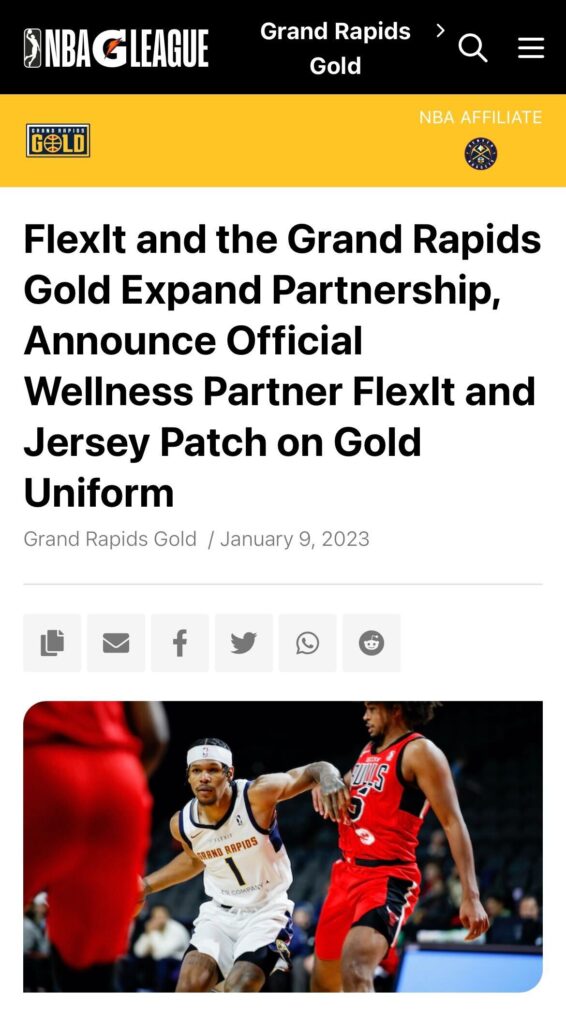 NEW YORK CITY – January 9, 2023 – FlexIt, the #1 Virtual Interconnected Health platform, and the Grand Rapids Gold, the Denver Nuggets NBA G League Affiliate, announced the expansion of their partnership to display the FlexIt logo on the Grand Rapids Gold player uniforms during the 2022-2023 NBA G League season, along with a number of additional partnership initiatives. The Grand Rapids Gold will continue to utilize FlexIt's purpose-built digital platform for virtual workouts.
During the 2021-2022 NBA G League season, as part of their partnership, the FlexIt logo was displayed on the homecourt of the DeltaPlex Arena, the former home of the Grand Rapids Gold, and on the players' practice jerseys. Throughout the season, FlexIt collaborated with the most notable figures within the Gold, including former Grand Rapids Gold Head Coach, who is also FlexIt's Head of Athletic Performance, Jason 'The Jet' Terry, in community-driven endeavors. Longtime NBA fan-favorite and 2021 member of the Grand Rapids Gold, Kenneth Faried, also collaborated with FlexIt to produce engaging content for the FlexIt platform, to represent that professional athletes, like FlexIt users, require motivation and accountability to meet their goals.
Since 2020, FlexIt has built the world's premier Virtual Interconnected Health platform, dedicated to providing people with the most holistic approach to their health and wellness goals. FlexIt has a long-standing relationship with the Gold and their President Steve Jbara, and FlexIt branding is now front-and-center on the game day player uniforms. FlexIt will share jersey patch branding with Steve Jbara's carbon utilization company, Air Company.

"We are on a mission to make personalized fitness and nutrition available no matter where you are," says FlexIt CEO Austin Cohen. "Now we're excited to expand our partnership with the Grand Rapids Gold athletes, coaches, and fans. FlexIt is proud to be displayed on the Grand Rapids Gold player jerseys."
"This partnership has been great to the FlexIt community," says FlexIt COO Justin Turetsky. "We have enjoyed our association with the Gold and their players, and are excited that our logo is now present on the game day player jerseys so Grand Rapids' fans can relate their favorite players to FlexIt."
"We're proud to expand our official partnership with FlexIt to our team as an official partner," says Steve Jbara, President of the Grand Rapids Gold. "The organization's high caliber of fitness and nutrition offerings match our own and will continue to be valuable additions to our team and community."
About FlexIt
FlexIt is the ultimate tool for motivation and accountability, helping users reach their health and wellness goals through live, 1-on-1, private sessions with elite fitness and wellness professionals. FlexIt's Interconnected Health platform modalities include strength, HIIT, yoga, nutrition, physical therapy, barre, pilates, stretching, meditation, and more. Each client's program is customized based on their needs, lifestyle, and goals and delivered on a proprietary platform designed and optimized for wellness experiences.
FlexIt's mission is to empower everyone with flexible experiences, Wherever, Whenever®. With custom features designed and optimized for training, such as screen live drawing, form correction features, and custom views, the FlexIt platform is changing clients' health and fitness habits for the better. Clients include athletes from the NBA, NFL, US Women's National Team, and known influencers and celebrities. FlexIt has been recognized and awarded by prominent industry publications including Men's Health, Runner's World, and U.S. News & World Report, and was named a "Most Innovative Product of 2021" by Innovation & Tech Today.
Download FlexIt on iOS and Android app stores. For more information, please visit https://www.flexit.fit
About Grand Rapids Gold
The Grand Rapids Gold are a member of the NBA G League and affiliated with the Denver Nuggets. The organization is committed to providing an elite level of basketball to the West Michigan community, while also investing in and contributing to the West Michigan community. The team is owned by SSJ Group, LLC. For more information about the organization, visit www.nbagrandrapids.com and follow the team on its social media channels.
Media Contact:
FlexIt Media Relations
info@flexit.fit
732.600.1711