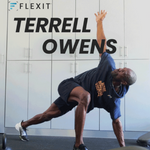 Terrell Owens, nicknamed T.O., is an all-time great from the gridiron. The Hall of Fame wide receiver is third all-time in both receiving yards (15,934) and receiving touchdowns (153). Beyond his style of play, which was backed by his athleticism, T.O. is well known for his flamboyant personality and passion for winning.
His toughness and dedication to his craft can best be represented through his performance in Super Bowl XXXIX. Seven weeks prior to his Philadelphia Eagles matchup with the New England Patriots, Owens suffered a fractured fibula and torn ankle ligaments in his right leg. Despite the injury, T.O. played 62 of 72 snaps and caught nine passes for 172 yards.
Owens' commitment to physical fitness rivals all men who have graced the field of play in the NFL. The dedication to his craft to ensure perfection in form was on full display when Terrell Owens tested himself with FlexItPRO trainer Ebenezer Samuel.

Check out Terrell Owens' workout!
1st & 10:
🏈 Terrell Owens is a member of the 2000s NFL All-Decade Team.
🏈 T.O. was a three-sport star out of the University of Tennessee at Chattanooga prior to being drafted in the third round, pick 89 overall, to the San Francisco 49ers.
🏈 Owens is well known for having iconic Touchdown celebrations!